HOSPITAL
Financials
SickKids is committed to operational efficiency, transparency and accountability. We support evidence-based decisions to enhance our financial health, conduct business under the principle of fiscal prudence and act with integrity and good judgment when allocating resources.
For 2021-22 the Hospital had an operating surplus of $59.2M. However, included in the surplus was $30.0M in one-time structural relief funding from the Ministry of Health, as well as $20.1M in restricted investment income that cannot be used for operations. Not included in the surplus was $31.7M in employer pension contributions in excess of what is considered the expense for the current year. After factoring in the employer pension contributions in excess of expense and removing the one-time Ministry funding and restricted investment income, the Hospital continues to experience a structural deficit as it has in previous years.
The structural deficit relates to years of inflation, increases in patient volumes and acuity and other cost pressures that are outpacing increases in funding from our major funder, the Ministry of Health/Ontario Health.
2021-22 TOTAL HOSPITAL REVENUES AND EXPENSES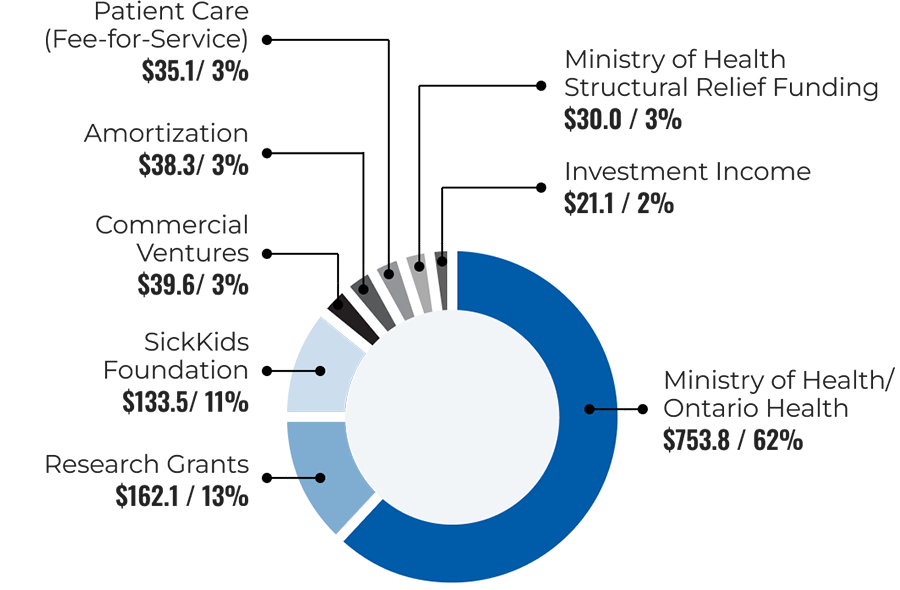 $1.21 BILLION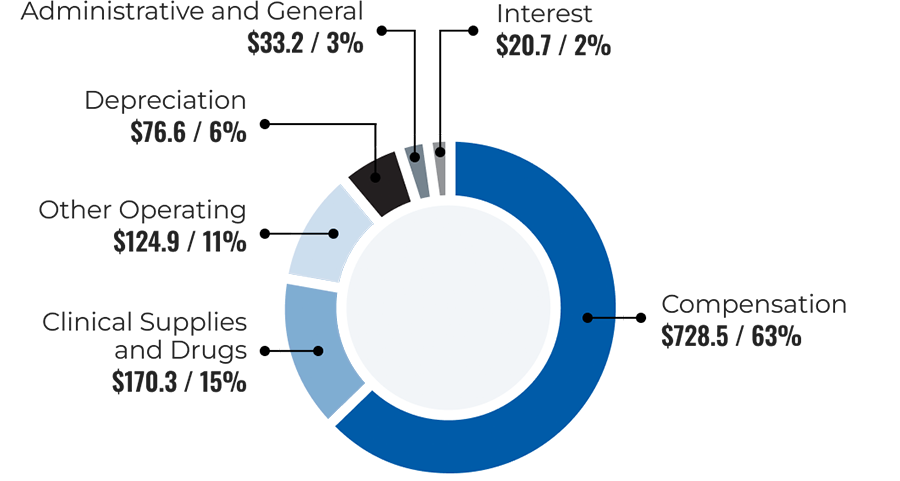 $1.15 BILLION
2021-22 PATIENT CARE TOTAL REVENUE AND EXPENSES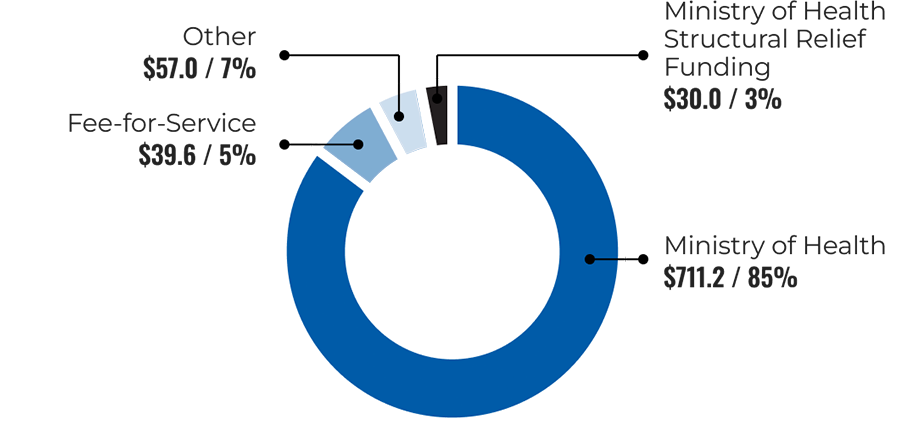 $837.8 MILLION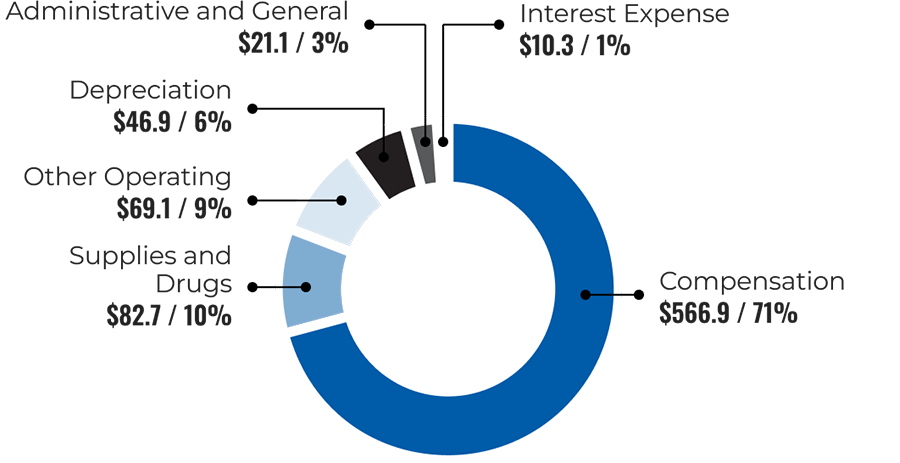 $797.0 MILLION
2021-22 INVESTMENT PERFORMANCE
HOSPITAL INVESTMENTS
(In MILLIONS)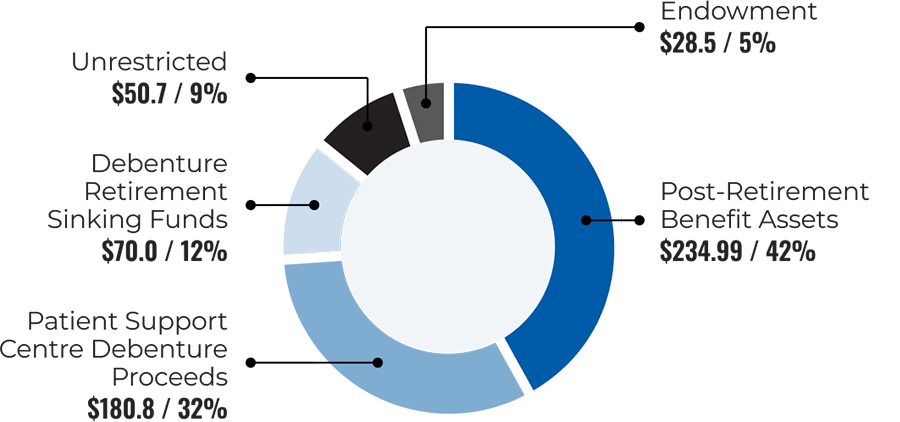 $564.9 MILLION
INVESTMENT INCOME/LOSS
(IN MILLIONS)
RESTRICTED INVESTMENT INCOME/LOSS*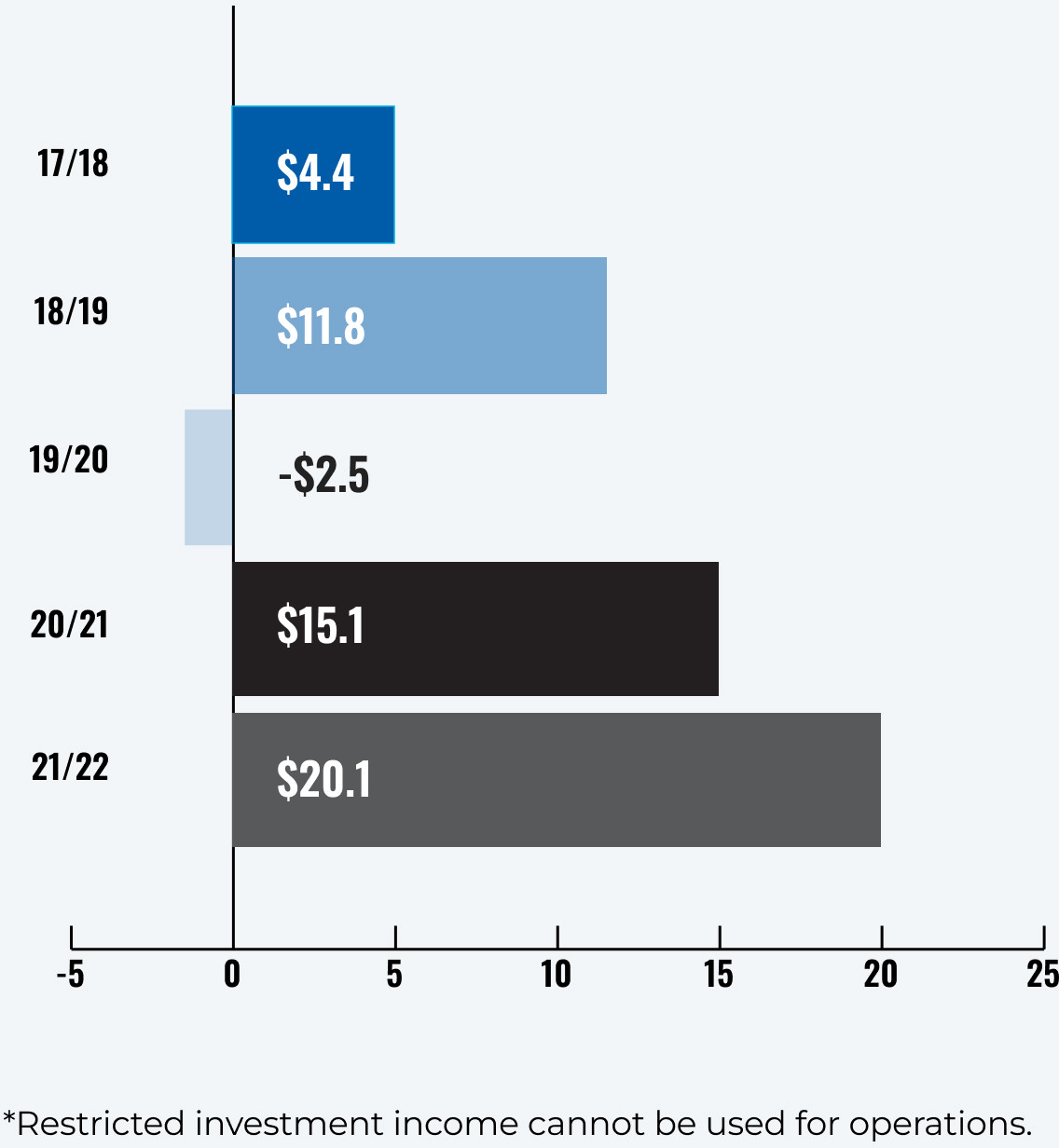 UNRESTRICTED INVESTMENT INCOME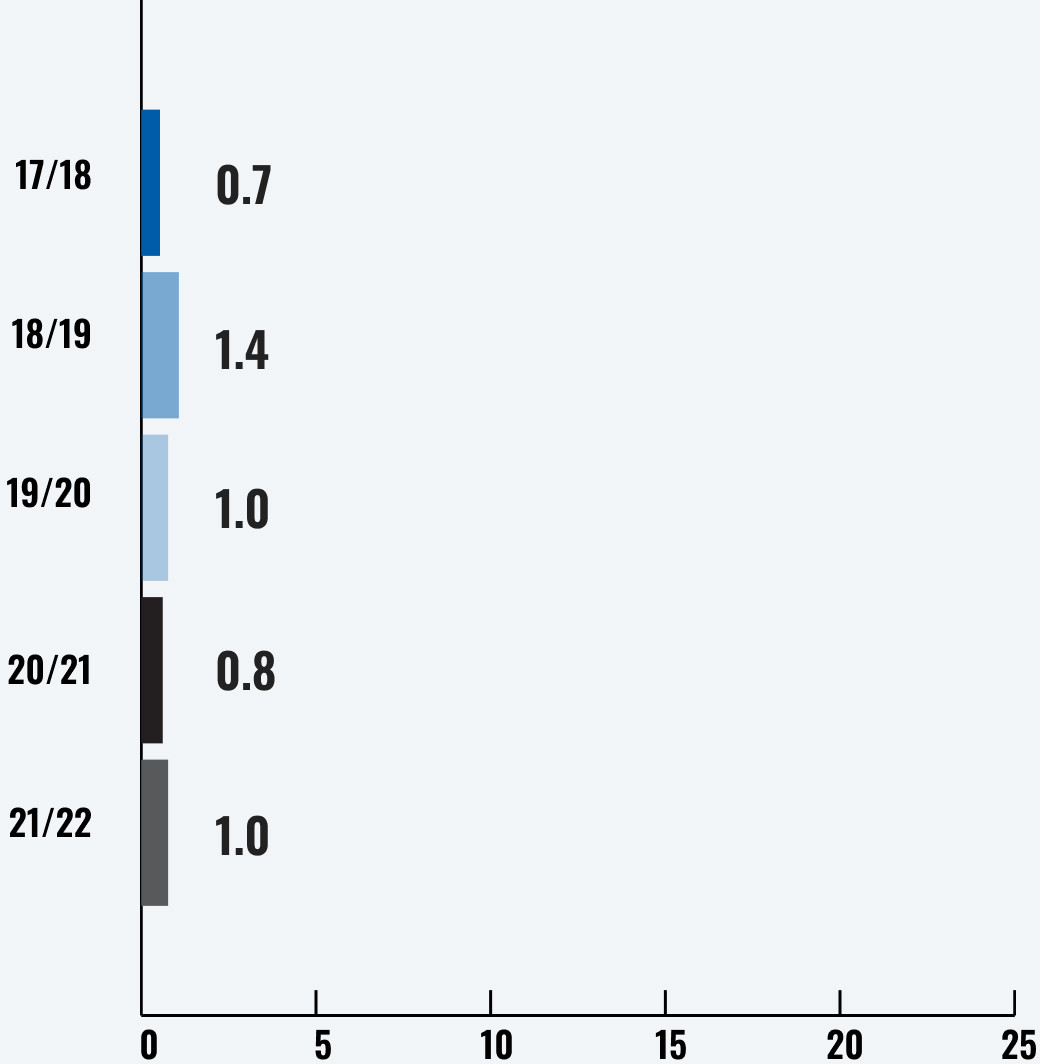 RESTRICTED INVESTMENT INCOME/LOSS*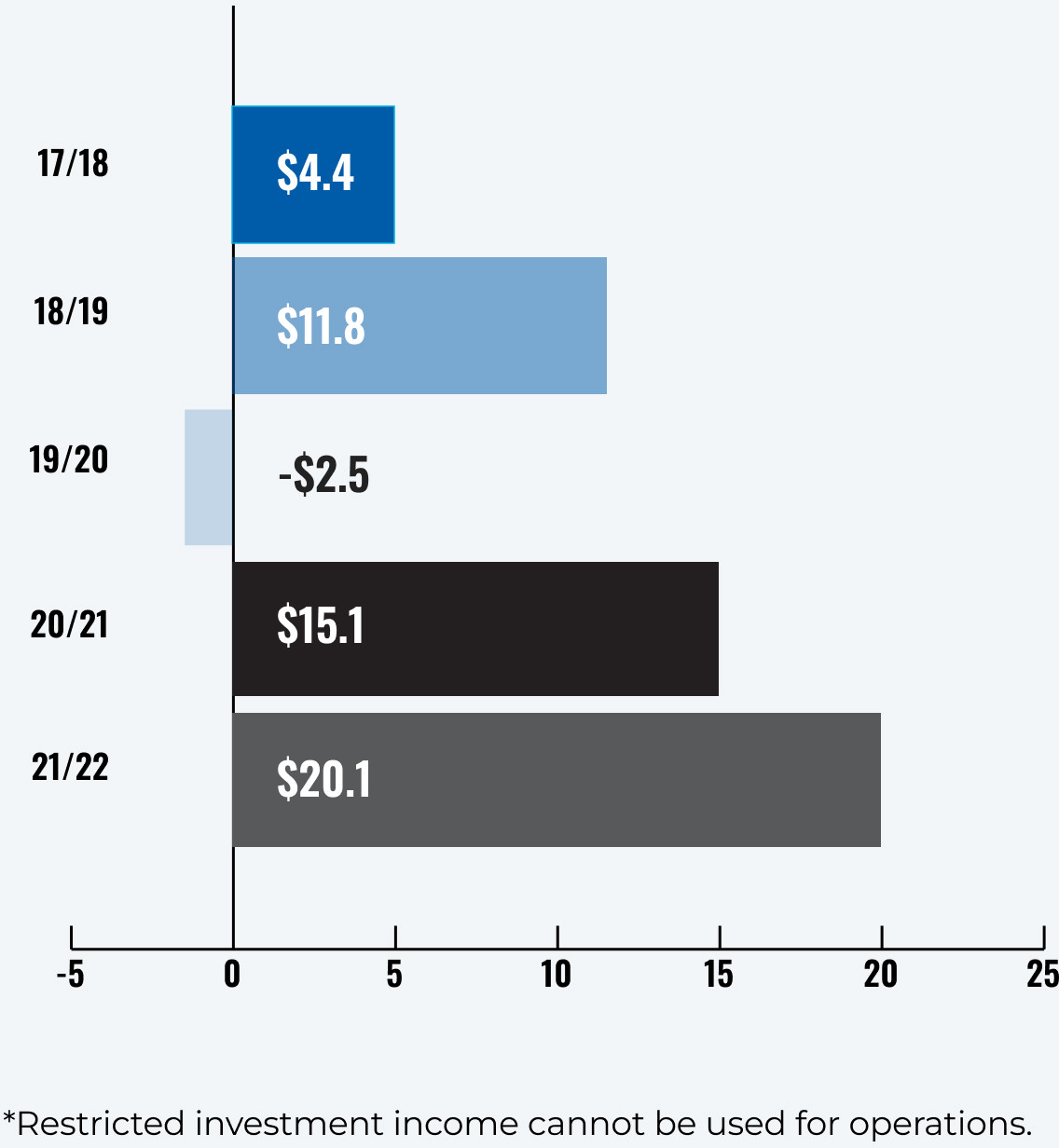 UNRESTRICTED INVESTMENT INCOME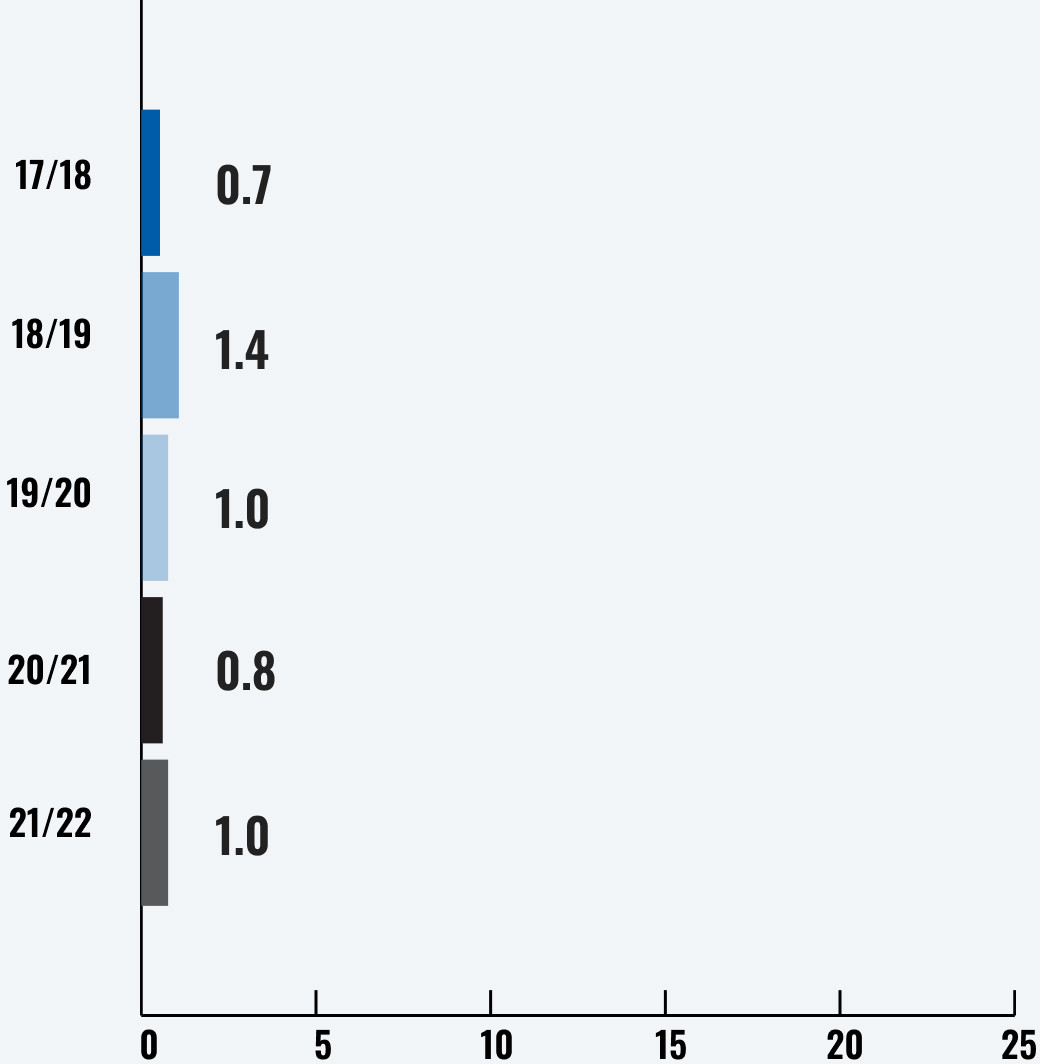 2021-22 RESEARCH INSTITUTE TOTAL REVENUES AND EXPENSES
SOURCES OF RESEARCH INSTITUTE FUNDING
(In MILLIONS)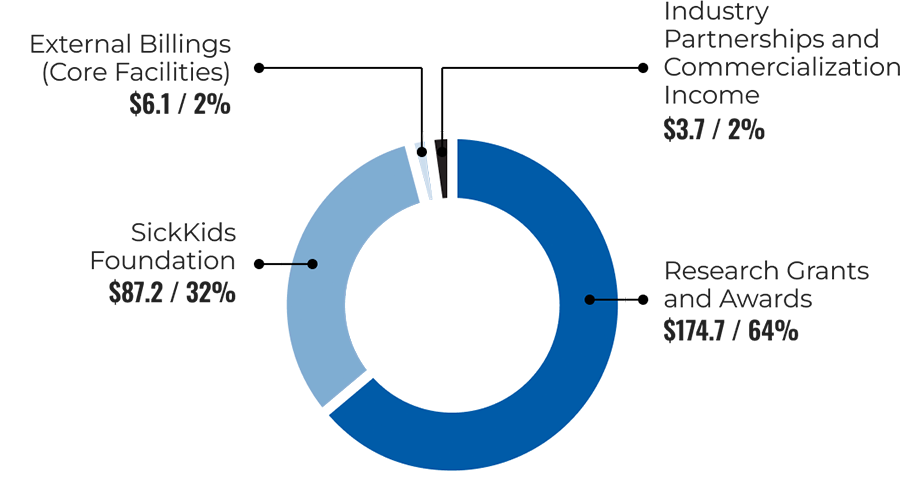 $271.7 MILLION
RESEARCH GRANTS AND AWARDS SOURCES OVER $1 MILLION
(IN MILLIONS)
$87.2
SickKids Foundation
$42.9
Canadian Institutes of Health Research
$23.0
Canada Foundation for Innovation
$11.2
National Institutes of Health
$10.4
Ministry of Colleges and Universities
$8.2
Bill & Melinda Gates Foundation
$8.0
Tri-Agency Institutional Programs
Secretariat – Research Support Fund
$5.4
Tri-Agency Institutional Programs
Secretariat – Canada Research Chairs
$2.4
University of Toronto
$2.1
Natural Sciences and Engineering Research Council of Canada
$1.5
Cystic Fibrosis Foundation
$1.4
Luminex Molecular Diagnostics
$1.3
Canadian Cancer Society
$1.3
Ontario Institute for Cancer Research
$1.2
Entertainment Industry Foundation
$1.1
Ontario Brain Institute
$1.1
The Terry Fox Research Institute
TOTAL RESEARCH INSTITUTE EXPENDITURE
(In MILLIONS)

$282.0 MILLION
TOTAL RESEARCH INTERNAL EXPENDITURE
(In MILLIONS)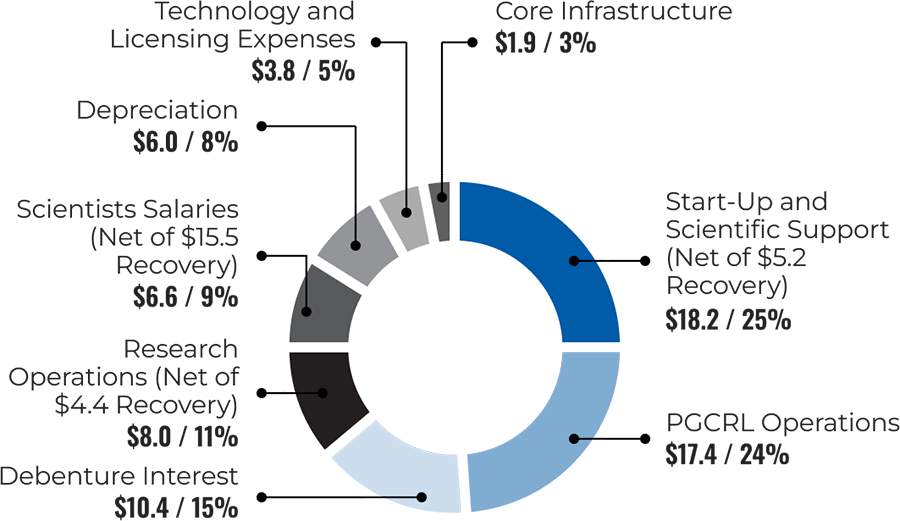 $72.3 MILLION