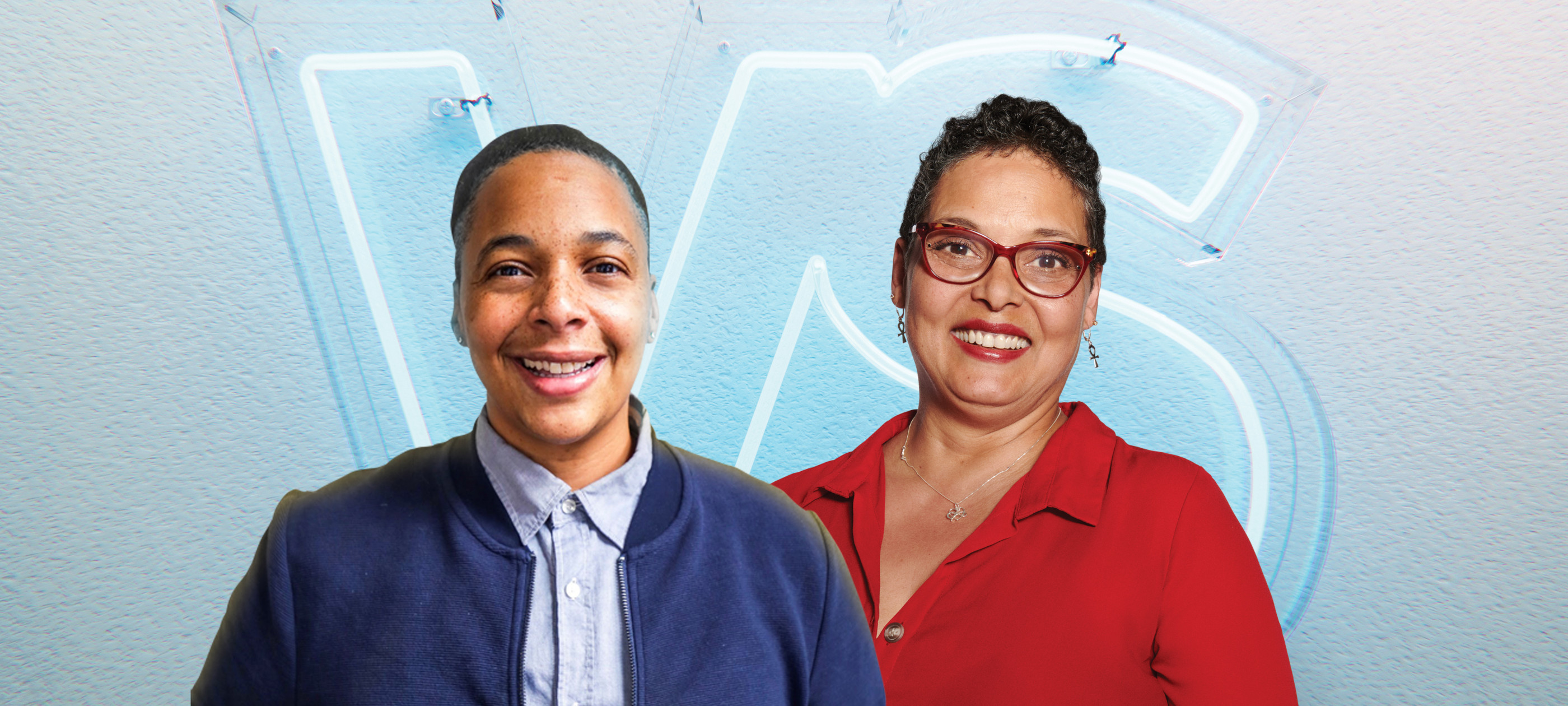 Where Everyone Will be Acknowledged, Valued and Respected
Our Equity, Diversity and Inclusion (EDI) Strategy, which aligns with the SickKids 2025 Strategic Plan and the Foundation's newly approved Strategic Plan, provides a bold path to embed equity, diversity and inclusion in all that we do, both at the hospital and the Foundation. Here, we discuss this important work with Tee Garnett (right), Executive Lead and Strategic Advisor for EDI at SickKids, and Raia Carey (left), Manager of EDI and Culture at SickKids Foundation.
Q. What represents a healthy community to each of you?
Tee: A healthy community allows me to be my authentic self — in the multitude of layers and identities that I carry — without fear of subjugation, dismissiveness, disrespect or even harm. It's about recognizing me and my uniqueness, and including me in celebration of that uniqueness.
Raia: Community is an innate sense of belonging. However, that can only be achieved if everyone is on similar pages, shares similar values, and are having honest and authentic conversations so that each person can honour everyone else in that community at a higher level than we typically do.
Q. Why are EDI strategies necessary at SickKids and SickKids Foundation?
Tee: I'm more of a storyteller, and that comes from a cultural place. Many years ago, when we were still travelling in horses and buggies, street curbs were much higher because of the backflow of nastiness. Only able-bodied people in slacks or trousers could step onto that 18-inch curb. When we think about who was left in the streets, it was people in dresses or pushing prams. Folks using walkers and canes. We learned that not everyone could get onto the curb and out of the danger.
EDI is simply about lowering curbs — not standards — to even the playing field so that more of us can get onto the sidewalks and into the boardrooms of conversations. When I think about EDI, it's simply asking the question: who have we missed and left in the streets?
Raia: It's also our chance to try to address the impact of systemic racism. Tee always says, "We measure what we treasure," and these things were never measured. They were left to chance. And when we leave things to chance, your subconscious, assumptions, or stereotypes will fill in the blank. And so having a strategy at the forefront allows us to slowly dismantle that.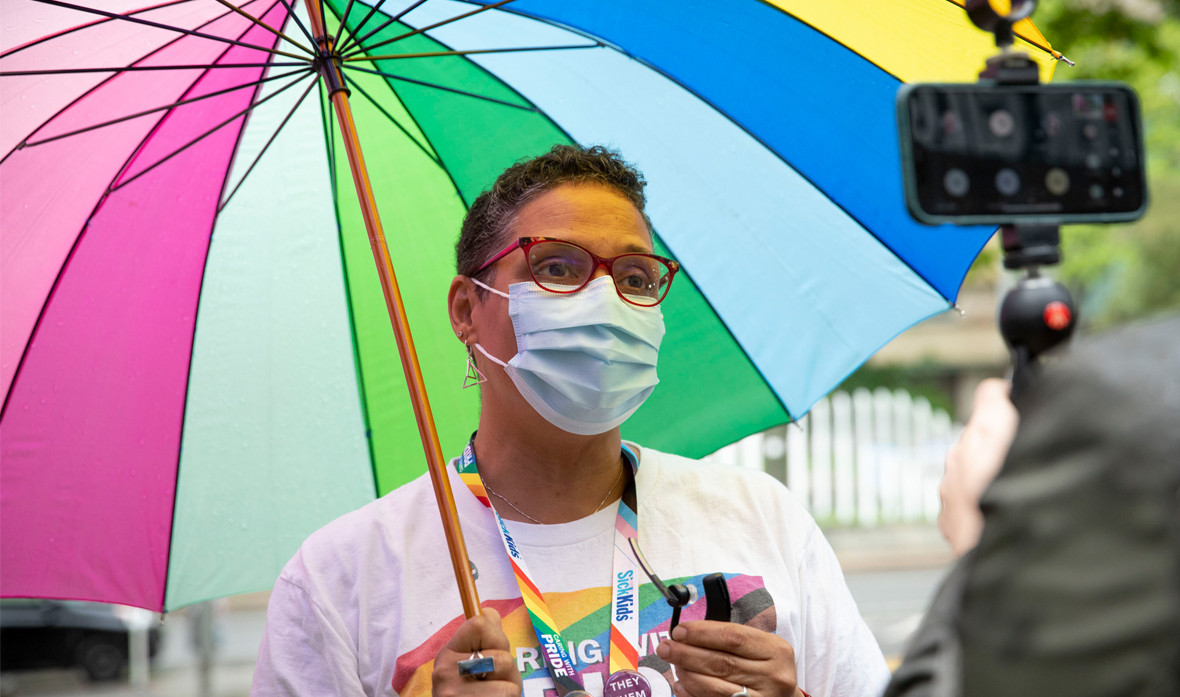 Tee Garnett at a SickKids Pride celebration this year.
Q. Please highlight one of the main pillars of the SickKids EDI Strategy.
Tee: I don't want to say it's a pillar, but it's one of the lenses that we put on every day. EDI is that lens that allows us to see our operations, our clinical spaces and services, and deliverables in a more precise way. One example is our employee demographic survey. Who works at SickKids, and how can we create spaces for each of us in our unique, diverse identities to feel belonging, safety, respectability and regard? Knowing who makes up our workforce is imperative to having a full conversation. We're also working with our steering committee to create demographic-specific safe spaces to support conversations as to why we are collecting data — it's not simply to pigeonhole people, but to create a mosaic of inclusion and representation.
Q. Another focus seeks to create an inclusive child, youth and family experience. How?
Tee: One of the main things I always ask is, who's not at the table? Do we have accurate representation? Through Family Advisory Networks at SickKids, we want to create an entry space for feedback from folks who have been invisible — Black and Indigenous patient advisors, who continue to be underrepresented but have unique experiences.
Q. Who had a voice in creating the SickKids EDI Strategy?
Tee: This is not just my strategy. We've had over 600 different voices contribute to the strategy — from patient family advisors to unions to strategic leaders to our Indigenous and Black Elders partners. They are working with us to ensure we're moving away from that monolithic narrative of there's only one way to be diverse.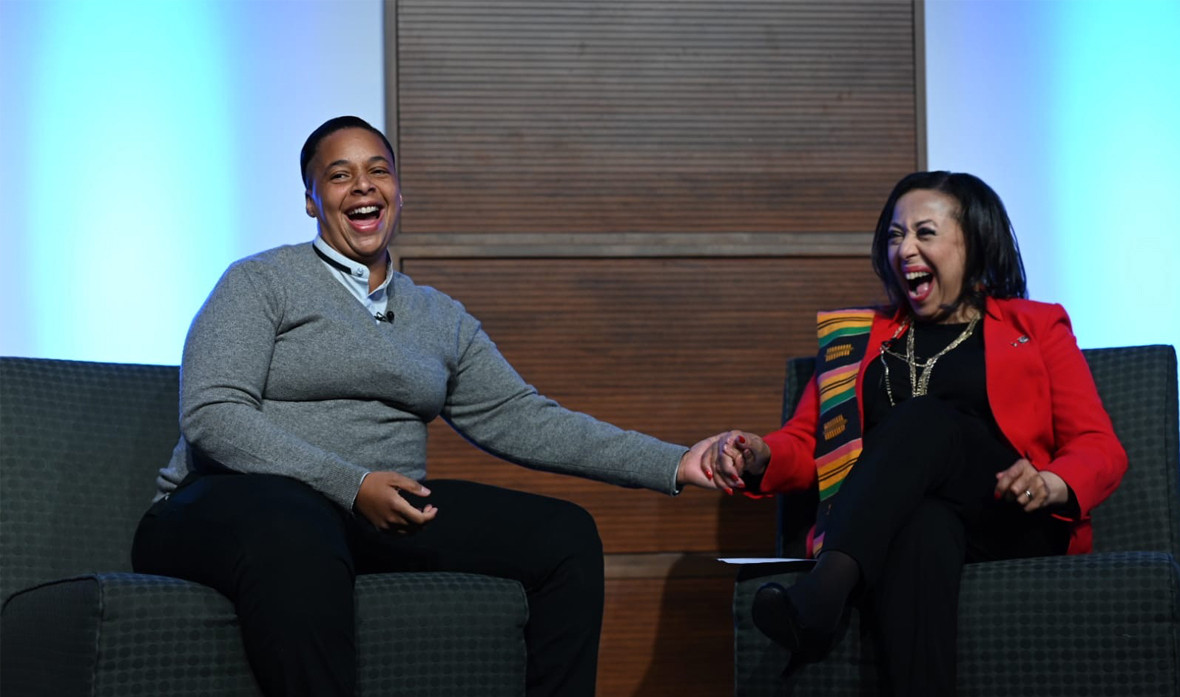 Raia Carey with her mom, Rosemary Sadlier, longtime advocate for Black history awareness.
Q. What changes have you seen so far at SickKids when it comes to EDI?
Tee: I'm very excited that we've hired an EDI Data Analyst as well as an EDI Program Manager, and both of these folks are instrumental to doing the work. We have a team. The organization has prioritized EDI.
Raia: Because SickKids Foundation is smaller, I've been able to see a few more changes — one being our recruitment practices. For the first time, we are saying that at least 40 per cent of those short-listed for the hiring manager must be from a diverse background. There's been a huge shift, because now it's changing the mindset of every hiring manager and hiring person.
The second thing is morale. It's something that's tough to measure, but we are having the tough conversations. We've been able to, slowly but surely, cultivate a culture that's more willing to have those conversations, to have constructive criticism, to challenge things. The number of people self-identifying from a diverse community has increased by a third — meaning that we have created an environment where people feel safe enough to fully self-identify and know that there won't be ramifications.
Q. Please share a couple of tangible near-term goals each of you have.
Tee: To really understand who our staff are and how to better support them. We are also in the final stages of vetting an anti-racism policy and including a racialized criteria on our safety occurrence reporting tool to really understand the differences of safety and workplace inclusion and belonging through critical race analysis.
Raia: We want to sustain the momentum we are seeing. For example, with the recruitment change, now that we've attracted more people from diverse communities, how do we ensure they feel like they belong, that they want to stay here?
Q. Where can I track progress at SickKids on EDI?
Tee: You can visit this website, where we will be sharing our progress. Also, we are currently working on something a little more user-friendly: an EDI report card. EDI is really contingent on creating some transparent accountability and being answerable to the community that we serve.
Raia: To date, we have been really focused on talking about EDI internally. This year, we hope to be able to share more about our progress with our community.
Learn more about the SickKids EDI strategy ›
Read the SickKids Foundation Diversity & Inclusion Commitment Statement ›